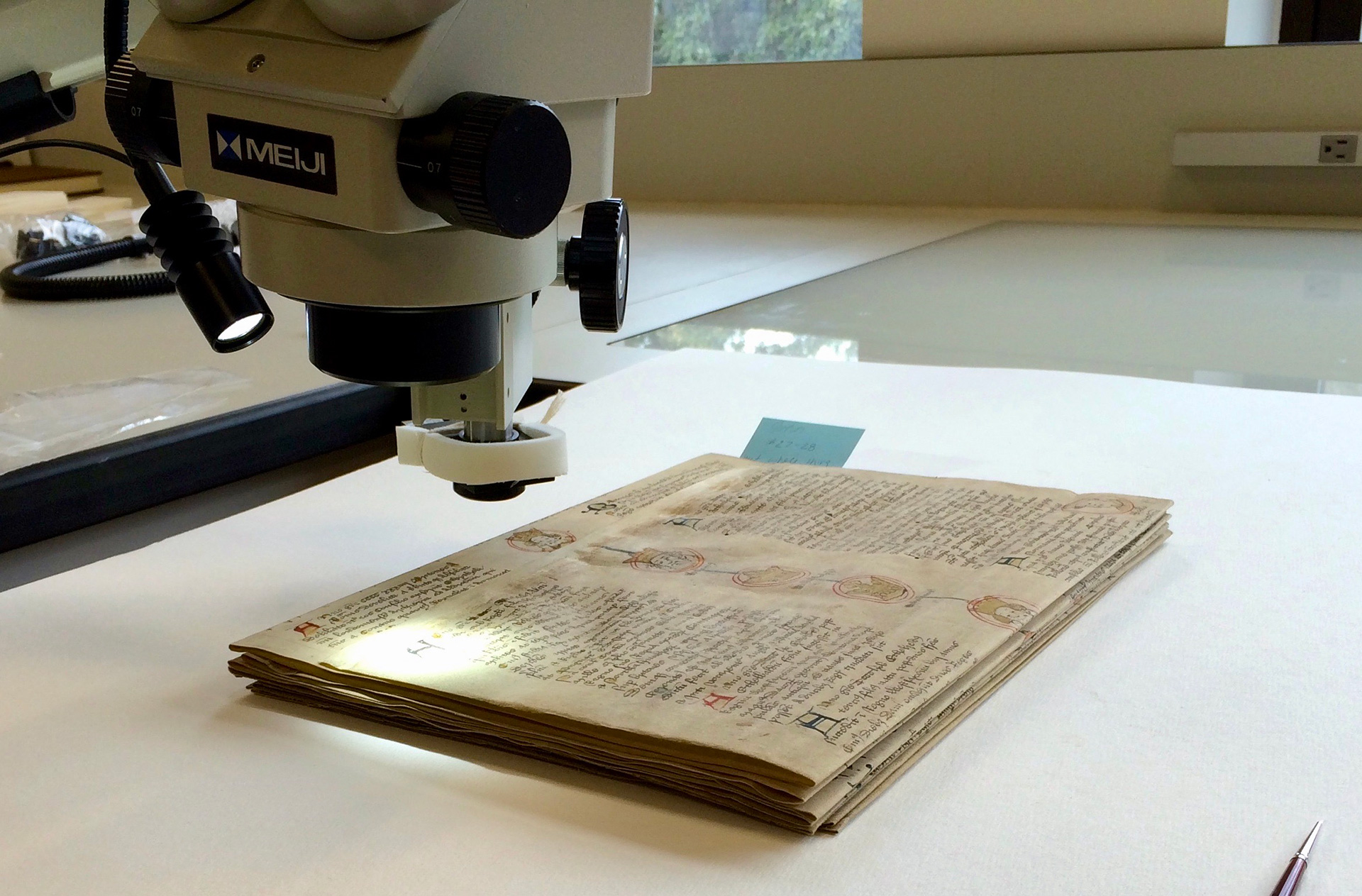 Andrea Denny-Brown
With the help of a series of grants from UCR over five years, Professor Andrea Denny-Brown oversaw the digitizing of nine rare medieval manuscripts from the Huntington Library for the purpose of teaching medieval manuscript study at UCR.
Medieval books are called "manuscripts" because they were written before the age of print, when books were copied manually by hand, usually by professional scribes. Each manuscript is its own highly individualized, unique object, and for that reason, they have historically been housed under extremely protective circumstances in libraries and museums around the world. In this pedagogically-focused project, Professor Denny-Brown collaborated with Dr. Vanessa Wilke, UCR Ph.D. and Curator of Medieval Manuscripts and British History at the Huntington Library in San Marino, CA, to fully digitize a small collection of early manuscripts from the fifteenth century for UCR students to study.
The process of digitization was extremely slow and meticulous. Each manuscript had to be carefully assessed and prepared to be photographed. Some manuscripts were very volatile and needed many months of conservation before they were able to be handled and photographed. A common problem was the flaking of the iron gall ink––over time, the ink can loosen from the vellum on which it is written, and when it flakes off completely, the words are either lost or they can only be seen by light stains that the ink left on the page. The Huntington retrained one of its conservators for this project; her job was to safely adhere flakes back down on the page, using microscopes and tiny brushes with different kinds of consolidant to re-adhere the ink. The conservation work was extremely detailed, and mere inches could be complete each hour.
Each manuscript also needed its own book cradle, so it could rest open without damage to its binding. The book cradles were hand-made to each manuscript's exact specification.
Once the manuscripts were ready to be photographed, the pace picked up. Usually, a curator was there to turn the pages and make sure no damage was being done to the manuscript pages in the photography process. The book was photographed from every angle, including the binding and empty flyleaves, and any additional letters or papers circulating with the book (called pastedowns) were also photographed.
A new standard for digitized online material had recently been introduced to make sure digital images were standardized across platforms: the International Image Interoperability Framework (IIIF). The UCR manuscript digitization project was adjusted to make sure it was IIIF-compliant, so the images would be usable in the future and could be viewed and understood across institutions, platforms, and applications.
In the end, the project produced roughly three thousand images of nine unique medieval manuscripts. These manuscripts form the basis for a series of courses now offered in the English department, including ENGL 151T: Hacking the Medieval Manuscript and ENGL 260: Multimodal Manuscripts. Even better, they are no longer only accessible to UCR students, but can be viewed by any scholar with an internet connection, via the Huntington Digital Library: